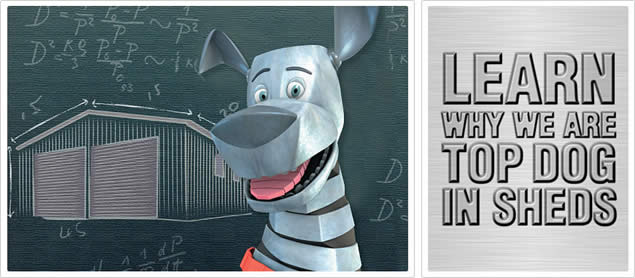 Warning: this dog punches above his weight.
Implement market research. Develop a brand positioning platform. Create a lovable' animated personification of the brand values. Write a catchy jingle. Produce TVCs' radio spots' point-of-sale'
promo items and print ads. Conduct franchisee recruitment campaigns. Understand the client's
business. Build a relationship of mutual trust and respect. Build a website and intranet.
Plan and execute 12-month promotional programs. Create a character costume for trade shows. Create customer satisfaction surveys. Produce franchisee training videos. Raise brand awareness. Improve perception of brand values. Make significant gains in a key market' while spending 75% less on media than the major competitor. Help put the brand among the top three for consideration by shed buyers in any market in which it competes. Create advertising that punches way above its weight – and a brand asset of enduring value.
These are a few of the things we've done for Totalspan.
The campaign also ran in New Zealand. Interestingly' in a radio station poll conducted less than a year after the launch' Totalspan Sam was voted one of NZ's four most popular dogs' along with Telecom New Zealand's Spot; Footrot Flats' Dog; and Rolly' the Purex toilet tissue puppy – august company' indeed.