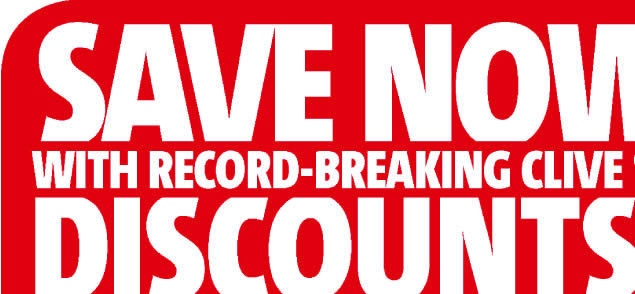 We pumped up the volume to
help Clive keep the profits real.
Can a small agency cope with big volume? HarrisonNess can! While we're not a so-called specialist retail agency' we enjoyed producing 673 press ads' 179 catalogue pages' 114 radio spots and 81 TV commercials for Clive Anthonys Electrical Superstores in the two years preceding its buy-out by JB Hi-Fi; and helping The Real Clive move lots of product through his six Brisbane and Gold Coast stores.
It's all about being in the right place at the right time with the right product at the right price. That means producing a huge volume of work efficiently' accurately and with split-second timing. We did it by developing a bespoke online process that allowed Clive Anthonys' product buyers to make final decisions about the products and prices to be included in advertising at the very last minute – and it ensured there was never a drama for Clive Anthonys' for us' or for any of our other clients.