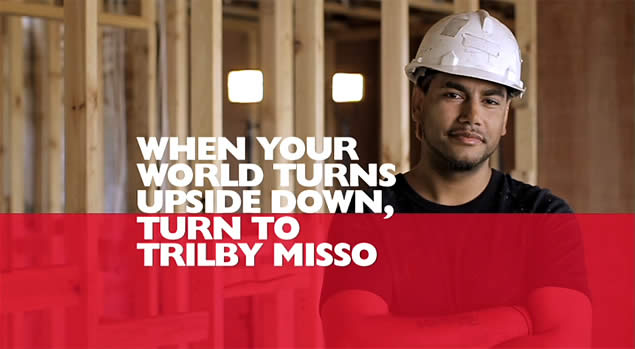 Here's why Trilby Misso turns to
HarrisonNess for brand building.
HarrisonNess has created a strategic advertising campaign for Trilby Misso' one of Queensland's
most successful law firms. The campaign' which includes four TV executions' supports the brand's established 'because we care' brand positioning. It also contributed to Trilby Misso winning the 2011 Australian Marketing Institute (AMI) Award for the category of Brand Revitalisation (Qld); and to a 22% year-on-year increase in enquiry when it launched.
We also captured the 'soul' of the brand online. Click for details.
Trilby Misso specialises in personal injury law. Under Queensland legislation' TV commercials promoting this area of legal practice are prohibited from making any direct reference to personal injuries; workers compensation; workplace or motor vehicle accidents; and so on.
The legislation also prohibits the use of any emotive elements (not even a positioning statement!) in any print or outdoor executions that make reference to personal injury law. Conversely' executions that do feature emotive elements may not make direct reference to anything relating to personal injuries.
To stay on the right side of the legislation' and do the right thing by the brand' you have to build the appropriate emotional connection between the brand and its audience – and say it all without saying much at all.
We said it like this.